FROM ARGENTINA, THE LAND OF THE GAUCHO!
"If you have a tail of straw, then keep away from the fire."
"No woman can make a wise man out of a fool, but every woman can change a wise man into a fool."
At the foot of the Andes Mountains, the mountain range in Argentina which is a continuation of our own Rockies, in the region of Mendoza, there is a winery which has been operating for over 100 years. Alamos Winery has been able to harness the best of the region's varied climate and produce a wine which is comparable to many priced much higher. A tradition of family values and modern techniques, coupled with a blending process and a firm commitment, are the forces driving this family to produce such a quality product.
Because of its location, Alamos winery has been able to take advantage of a climate which features warm to hot desert-like conditions during the day, and frosty cold temps at night. The hot, direct sunlight provides for a quick ripening grape while the colder nights sort of trap the sweetness and tartness together inside the skin of the fruit. Add to this incredibly, clean air and pure mountain water and you have all the makings of a superior product. The area, Mendoza, produces many fine vintages and has become the premier area for winemaking in South America.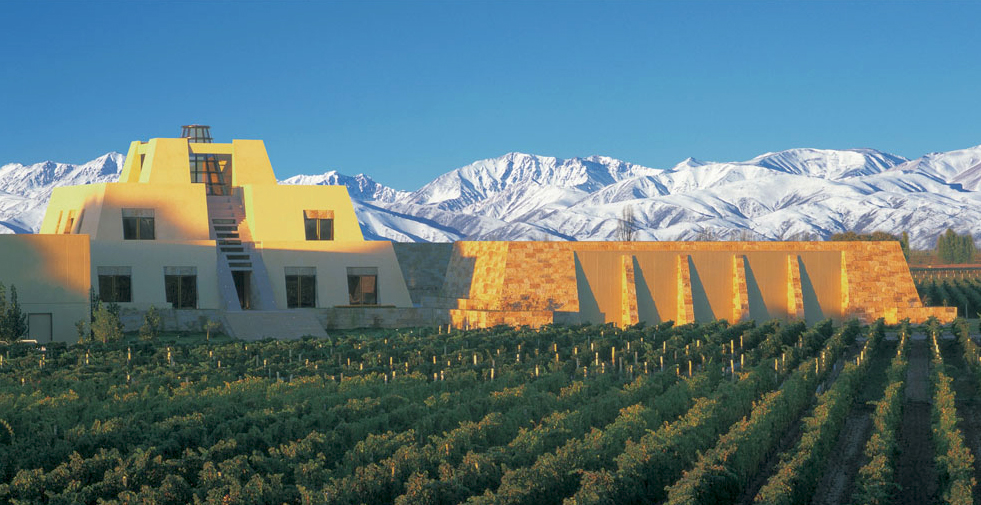 Alamos Malbec is a very simple wine with straightforward flavors and a smooth, rich texture. Malbec is known primarily for its deep color and fruity yet dry taste and Alamos Malbec is no exception. The entire production is overseen by Lucia Vaieretti who grew up in the region and still calls it her home. She is an experienced vintner educated at Don Bosco, the highest rated school of viticulture on the continent. Blending the flavors of the natural grape with plum and black cherries and adding to its aroma a hint of cocoa gives this wine a unique charge not found elsewhere. This is a very drinkable wine with ample rewards. While decanting would be a good idea as the open air will give the liquid a chance to rest, it is not necessary. It will stand up to a re-corking if necessary and will not lose a bit of flavor.
I have found this wine to be very available in a variety of stores here in North Carolina and on line as well. Because of this and because I think that at about $11 a bottle it is an excellent value, it has become a favorite of mine as well as of my wife. You see, and this is only my opinion of course, wine is primarily the product of a winemaker coupled with nature. If the natural ingredients are pure and used well, and the process is followed properly, it is really hard to go wrong. Now, it is just as easy to produce an inferior product, say with too much sweetness or with a poor aging process. But when the ingredients are good and your hard work is evident, it is just as easy to produce a product of which, as I so often say, your grandfather would be proud. If you are a fan of malbec then you know what I mean. And if you are a fan of wine, good, drinkable wine, you can appreciate the value a good wine will bring to your table.
This is a hearty tasting wine as its color and bouquet would indicate. It will pair very well with say beef ribs. Argentina, remember, always has and still does, have a true love affair with beef. In fact some of the richest beef in the world is raised here. Feeding on a diet of natural grass produces a cut that is rich in natural flavor and juices, higher in fatty acids and lower in cholesterol than grain fed cattle. With such a rich flavor and texture, Argentinians need a wine that has the verve to stand up to and add to the enjoyment of a truly good steak. But, this wine is also a good outdoor sipping wine. Sitting outside on the patio on a little cooler day, this wine would go very well with some dried sausage or chorizo, or perhaps a strong cheese. But make no mistake. This wine will stand perfectly on its own as you relax and enjoy a book or take in some sun.
As I said, this wine is readily available here in North Carolina both in stores and on line. So If we can get it here, I'm pretty sure it would be easy to find all over the country. At any rate it is well worth looking for. And if you've never heard of it, I think you will be very pleased as you foray into the great wine-unknown. I would rate this wine a 9.0 out of an unattainable 10 for flavor, appearance and value.
Anne Marie! Wait. What did you say? Friends are coming over for wine? Oh well. There goes that bottle.