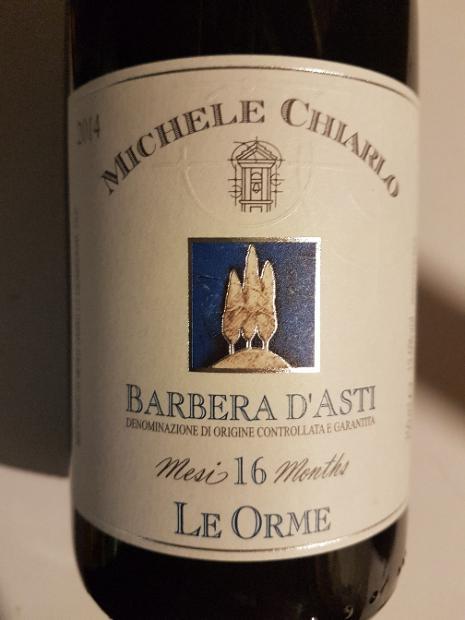 "Age and glasses of wine should never be counted" Italian Proverb
Barbera D'asti is an Italian red wine produced in the hilly provinces of Asti and Alexandria, situated in the Italian Piedmont or Piemonte. The grape itself dates back to the thirteenth century with vinification officially being first recorded in the seventeenth in the city hall of Nizza Monferrato. The grape spread widely in the nineteenth and twentieth centuries, and today is the principal as well as the premier grape of the Piedmont. But to locals, it has been enjoyed there for centuries.
The history of the Chiarlo winery begins in 1898 with father, Pietro Chiarlo washing the cloths used to purify the wine blends. After leaving the region for Abyssinia, he returns to start a family. Michele, his son, grows and is enrolled in winemaking school in Alba where he meets several other future vintners. His love and commitment is nurtured there and in 1956 he begins his personal journey to restore the industry to the Piedmont and produce wines of which his father could be proud. Later in the 1970's, he consolidates and purchases land in Langhe, Gavi and Monferrato and builds a then state of the art winery in Calamandrana, and in 1974, he introduces his Barbera D'Asti, which translated actually means, "Barbera from Asti." This is now considered one of the signature wines of this region of Italy.
Michele Chiarlo Barbera D'Asti is aged for a minimum of 16 months, and believe me, this is time well spent. Throughout the entire process great care is taken so that the finished product is superior and worthy of the family name. Because of its DOCG designation it is 100% Barbera grapes which assures a deep, but at the same time, bright ruby red color. It does benefit from about 20 minutes in a good decanter as the air will tend to bring out the aroma of fresh, dark red fruits such as black cherries and currants. On the palate, it is refreshing, surprisingly so due to the intense color, and delicate with a smooth silky feel. Although decanting will influence tannins and soften them a bit, this is a red with character, smooth but with a lean toward bold.
Now, in general I never subscribe to the rule of, "white with fish, red with meat," and this wine is a perfect example of the exception to that archaic rule. It does go well with a steak or with game, such as boar, but this wine really shows its best with pomodoro, or with tomato sauce such as a marinara, or with mussels and clams in a red or an agli'olio (garlic and olive oil). It is a good wine for during the week, for Friday night pizza, as well as for Sunday dinner and I am sure it will generate many compliments. At about $14 per bottle, it is what I consider an excellent value, as it looks and tastes much more expensive. Salutti!