"Amici e vini sono meglio vecchi" (Old wine and old friends improve with age)
Let me begin by saying that a good chianti is by far my favorite type of wine. The color, the aroma and just the appearance in a glass is one of the most beautiful simple sights given to us by the Lord Himself. I have never had that "perfect" glass as there is no such thing as an absolute perfection. But, be assured, I will continue my search for as long as I am able.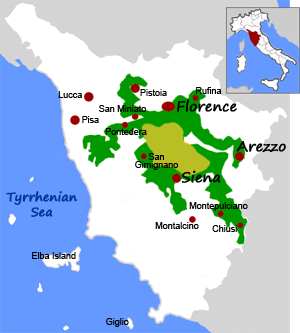 Chianti wines take their name from the region in Italy. These superior wines are made, by statute, of at least 70-75% Sangiovese grapes with other local grapes making up the remainder. Internationally grown grapes such as merlot or syrah can also be used in the blending as long as they are locally grown. The wine is substantial, yet simple and makes an excellent companion to a weekday meal or a special occasion. It has been said that there are two types of wine: those that are meant to be tasted, and those that are meant to be drunk. This is an excellent drinking wine, although I would never rule out sipping.
Santa Cristina is a product of the Antinori winery, from a family which has been producing wines since 1385. The family has managed the business for 26 generations now and has always been ruled by the idea of making a good, sustainable product by upholding tradition and family pride. Their standards are very high as the longevity of the winery suggests and shows a passion for producing elite wines. The Chianti Superiore was first produced in 1946 in the ancient town of Cortona, near to Siena and Perugia. Now produced in a newer facility which was constructed in 2006, Santa Cristina has become somewhat of a reference point for wine connoisseurs around the globe.
The wine itself is a very deep red, actually purple in the glass with an aroma even more inviting that its appearance. Open the bottle and you will get the feel of fresh fruits like cherries and plums along with a slightly earthy scent almost like fresh cut hay. On the palate the wine has a long lasting wonderful flavor which invites not only sipping, but also the drinking I mentioned above. But in my view, this is a wine to be savored, so take your time with it. Drink it slowly. It will definitely call you back for another glass. I did allow it some time to decant, almost an hour, which did give it some time to recover from its time in a corked bottle and I can say that it did benefit from that.
As for pairing, this wine calls for a traditional dinner, with a substantial antipasto, strong cheeses, dried sausage and some marinated peppers and artichokes. Follow this with a traditional gravy, some braciole with a firm pasta and you have a feast that will make your friends and family look at your home and kitchen with envy. If you believe that a good meal makes for good company, this wine will certainly add to the experience.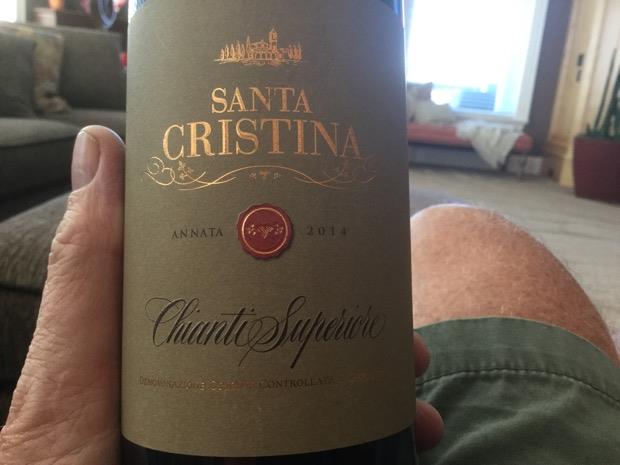 The 2017 vintage is currently considered the finest in recent years. With an alcohol content of 13% and a price in the $12 range, this is an excellent value which tastes much more expensive.