"Come ti vidi, m'inammorai, e tu sorridi, perche lo sai." (When I saw you, I fell in love, and you smiled, because you knew."
The Veneto region of Italy is sort of a mecca for those seeking fine wines in all price ranges. The wines are mostly bone dry by nature with strong fruits, long legs and a robust, hearty flavor. Gran Passione Rosso is certainly no exception, and is one of the finer value priced wines from this region. The name itself, translated as "Great Passion," reveals a centuries old devotion of wine making in this region in Northeastern Italy. Bounded by the Dolomite Mountains in the east and the Adriatic Sea in the west, its location is such that the weather remains temperate most of that year, making it an ideal vacation region as well as an almost perfect wine growing region.
The grapes come from selected vines throughout Veneto. They are left on the vines to dry a process known as "Appassimento," for at least 15 days before being carefully picked by hand. This drying process adds to the richness of the flavor and is also kind of a nod to the Venetian tradition of wine making. After fermentation, the wine is aged in oak for three to four months before bottling. This is a rather expensive process and very time consuming. And considering the care in selecting only Corvina and Merlot grapes it shows a meticulous attention to detail and a commitment to quality.
As for the finished product, at 14% alcohol this wine is not for the first time or novice drinker. As I stated above, it is a very flavorful, hearty wine with tastes of vanilla and dark fruits like plum and black cherries. With a smooth velvety finish and a luscious, lingering aftertaste this wine remains on the palate long after the glass is emptied. Its appearance in the bottle is deep, dark and rich and is only a hint of what is to come. Decanting this wine is an excellent idea for even up to two hours. The aroma will fill a room with a wonderful air of fruits and spices while indirect lighting truly shows off its deep purple hue. Allowing it to breath for even one hour will enable its fullness to really shine through.
This blending of both Corvina and Merlot grapes is kind of a staple of the area. Both species are native and have been cultivated here for centuries, dating back to the days of the Roman Empire. After that, while Venice was a power both financially and militarily in the civilized world the cultivation of these grapes was carried on in the area by various families. Winemaking, using these grapes, helped to build Veneto as a dominant producer of a better class of table wines and they began to export throughout Italy and the rest of Europe as early as the seventh century as Venice emerged.
As I said above, this is a very rich, full bodied and with an alcohol content of 14% this is not the type of wine that "goes with everything." Rather, reserve this wine for a much heavier, heartier meal. It would pair well with maybe beef stew or a thick beefy steak such as a porterhouse or a filet. Try it with a meal of wild boar or if you are more adventurous, elk. Venison may be good depending on its preparation, as would be a game bird. But I do think that a domesticated fowl, chicken, duck or turkey, would be lost and either the meats or the wine would not be done justice. We tried this with a Tuscan-style pork roast, a little on the spicy side, marinated in olive oil and it was absolutely perfect.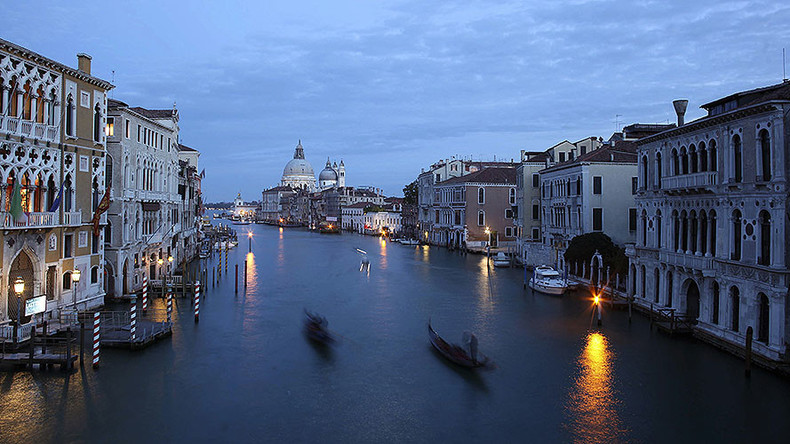 No doubt that wines from the region of Veneto are world class and a truly exceptional value. Gran Passione Rosso will meet and, I'm sure, will exceed all your expectations about a product from this region as well as promote other interests here. With its lush countryside, rolling hills, centuries of history and a plethora of wineries, Veneto is an excellent destination for that once in a lifetime trip.