"Whoever said diamonds are a girl's best friend, never drank wine" anonymous(male obviously)
Okay. So if you don't agree with the above quote, you are most probably a female. But if you take the time to think about it for a minute, you can maybe see that it does actually make some sense. You may not get diamonds. But a glass of wine, a good wine, together with good company can produce memories and be the start of a long lasting relationship that will ultimately produce the diamonds that come with it. Of course, not all encounters lead to a relationship and not all relationships lead to good memories. But it only takes one, the right one, to produce a loving result which is a diamond in itself.
In Italy, a BORGO is kind of like a borough here in The States. It is usually situated outside of a major city with its own mayor, churches and traditions. Because of its proximity to the city it is very closely tied to the lifestyle with many people commuting for work or major shopping. Farra d'Isonzo is a commune located in the northwest corner in Italy, in the region of Friuli-Venezia Giulia. Historically, the region was a bridge across the Isonzo River for travelers between the Western Empire and the East, and was later used by the Goths, Lombards and other invaders of the Empire. Today, it is a thriving area mostly thanks to the many vineyards located there. This particular winery was built through the vision of a rich landowner, Count Strassoldo and a friar, who built a monastery on land donated by the Count. In 1975 the Borgo Conventi was established with a commitment to producing fine wines. This commitment became much more of a commercial success in 2001 when it was acquired by the Folonari family, who brought the wines world-wide attention with a boost in production and a nod to tradition.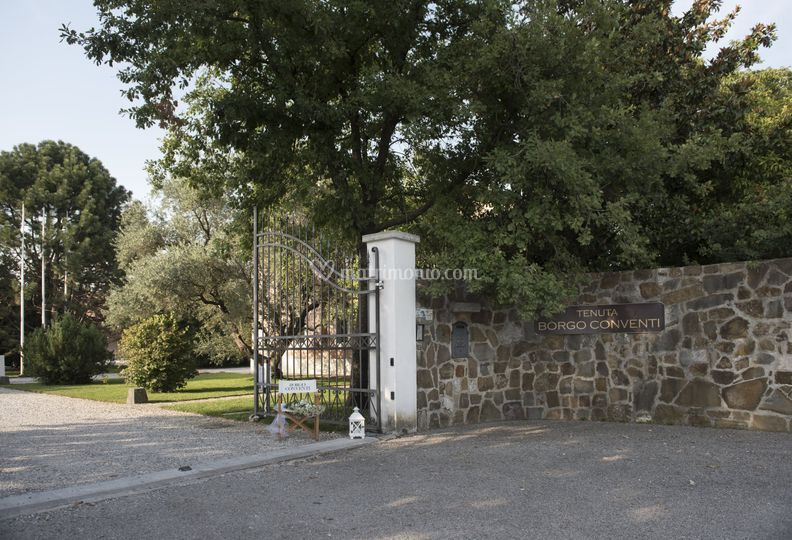 The Pinot Grigio is a product of the COLLIO Range which is true to the characteristics of the terrain. Sediments left by the flooding of the River Isonzo enrich the already mineral rich soils on its banks. Summers are warm, winters are very cold and it is cloudy almost year round. This type of climate produces a comparatively short growing season and one where the grapes ripen slowly. Rainfall is significant and pretty steady so that the crops are pretty much tended by mother nature. In 1985 the family decided to plant varieties of grapes that yielded younger, fresh wines which almost give the illusion of wildflowers rather than a more cultivated, refined product.
In both bottle and glass the Pinot Grigio shows a deep, straw yellow color with highlights that even border on brown, much like dried straw. The fragrance is delicate, as with most Pinot Grigio, with hints of pear and a light tinge of yeast. On the palate it is delicate, inviting, with a sense of mineral, a bow to the soil, and fresh with enough of a lasting flavor to get you through to the next sip. There is less of a citrus taste here than with other Pinot Grigio varieties, probably due to the area where these grapes are grown which is not at all conducive to these fruits. Instead, one gets the sense of a more earthy taste, dry and a bit bitter, with a smooth clean finish. It is excellent when young, but could use a little more time in the bottle so it can more fully mature.
Since this is a white wine, Borgo Conventi will pair naturally with fish and poultry. But we chose something a little different. We drank this wine with a meatless soup of beans and broccoli and it was marvelous. We also had some homemade bread to go along with it and Romano cheese for seasoning. Borgo Conventi showed to be an excellent accompaniment, strong enough to keep its integrity but blending very well with the consistency and flavor of the soup. I would not hesitate though to serve it with light appetizers, an olive salad, oysters or bacon wrapped scallops as a few examples.
Now, don't get me wrong here. I am fully aware that diamonds actually are a girl's best friend, as has been pointed out in verse and song. (Thank you Marilyn) But a good wine, while a small substitute, can work for a while. And who knows? That first glass could lead to a little twinkle in the eye, a flutter in the heart and a loving relationship that produces pearls (of wisdom), rubies (the romantic kind), rejuvenation (that only an emerald can bring), and a diamond that can only be found in the love of the person of your own dreams. Salutti, and Buona Fortuna!