"Drink wine, and you will sleep well. Sleep well, and you will not sin. Avoid sin, and you will be saved. Ergo, drink wine and be saved." Medieval German Saying
For this writing we will remain on the European Continent and travel to the South Tyrol region of Italy. Annexed by The Kingdom of Italy just after World War I, this region was formerly part of the Austro-Hungarian Empire. Situated in the Northeast, at the foot of the Dolomites in the Trentino-Alto Adige region it is the northernmost region in the country. Most of the 500,000 residents actually identify more with their historical Germanic roots and roughly 75% of the people speak German as their native language. The region was promised to Italy in the Treaty of London in 1915 as an incentive to enter the war on the side of the allies. Later, under the Fascist regime, a purge was attempted and German as a language was banished from public service, the teaching of the language was outlawed and all Germanic newspapers were banned except for the pro-fascist Alpenzeitung.
Forward now to wine-growing where climate and soil are major factors in the production and approach, and the wine grower is highly respected for his experience and knowledge. The vineyards of this winery's 330 members are scattered along some sunny slopes which range from an altitude roughly 1350 to 2800 feet along the South Tyrolean Wine Road, a very famous road in the area. The grapes here enjoy a most precious natural gift of climate which provides a very wide temperature range. High daytime temperatures allow the perfect amount of sugars to accumulate inside the grape, while cool nights regulate their acidity by preventing early ripening. This natural process nurtures the fruit, drying it quickly after a rain which prevents any fungal infection, virtually eliminating the need for harsh chemicals. The soil originated from deposits during the glacial period. It has a low pH and because of the dense clay composition, it is only permeable to a relatively shallow depth, all of which aids in a very slow ripening process.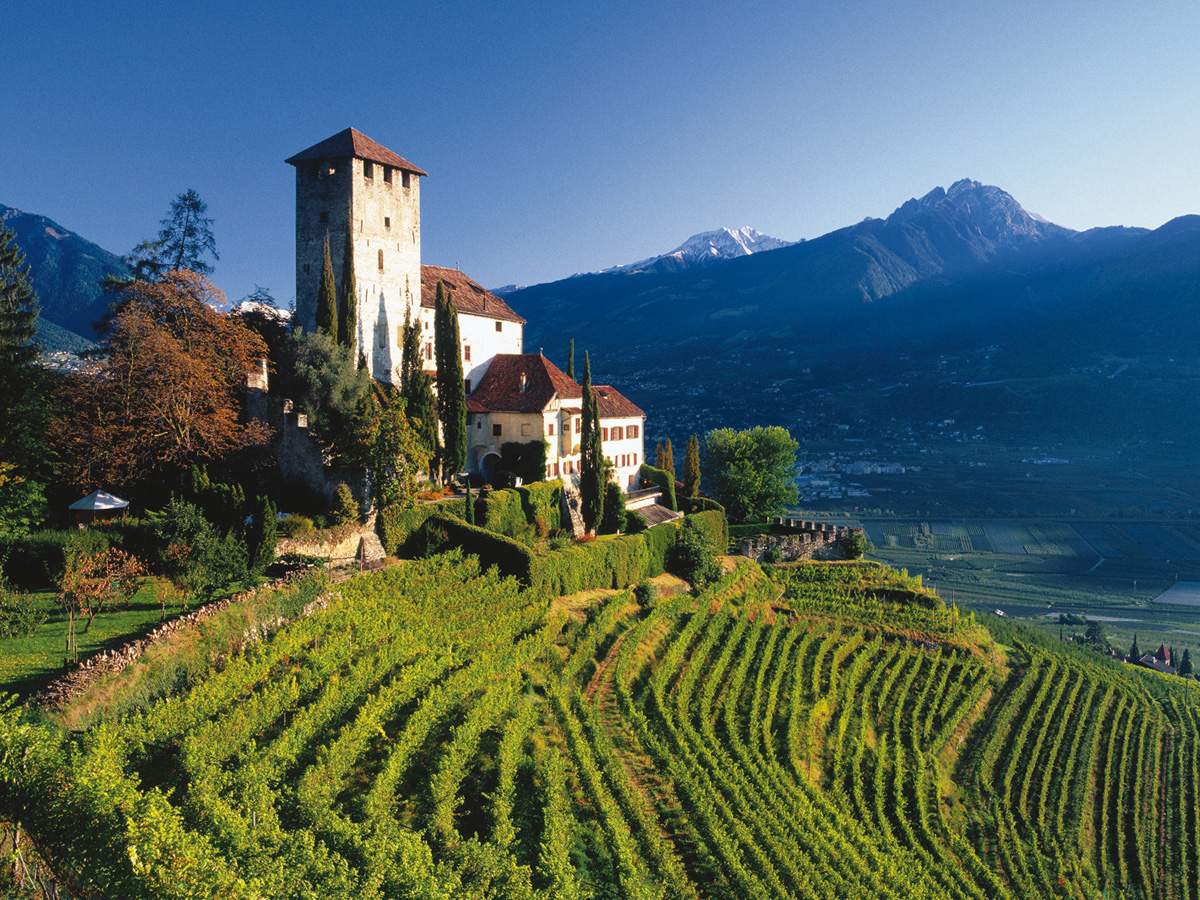 Wine production here is done in a very traditional manner. The grapes are harvested by hand, and first processed into steel tanks. The finished product is a pale straw green wine that is light on the palate as well as lightly aromatic. One can get the aroma of green apple and very soft pear with a little imagination, but mostly it appeals to the senses with its freshness. In a way, think back to a time when your mother hung the wash on the line on a sunny, breezy day. One of life's great pleasures and even greater memories is the smell of those clothes. They just said "clean." So too is the experience with this wine. It doesn't smell like laundry, but there is a cleanliness, a freshness in the aroma that is unmistakable. On the palate the sensation is exactly the same. Light and airy, there is a softness to the feel. The flavor of the grape is dominant, but the freshness of the apple is also there. In all this is an excellent drinking wine during the long, hot days of summer as you sit outdoors, maybe reading or sunning yourself. What better way to enjoy an afternoon, soak up your vitamin D, and sip a cool wine either by yourself or with pleasant company. Enjoy it with light appetizers such as fresh mozzarella salad or a caprese salad with mozzarella, basil, tomato and some EVOO. As an alternative, try using some raspberry infused vinegar over the tomato. Dreams are made of this!
With an alcohol content of 13.5%, this wine is drinking very well now, but can also be well stored for another 3-4 years. But then, why wait. Enjoy it now and pick up a spare bottle. Fortunately for us, this wine is readily available here. I found it in a small wine store in Carolina, but I have also seen it in on-line stores. And if you consider that James Suckling gave it a 91 rating, you can place yourself in some rather elegant company. This will become a favorite if you appreciate a dry, white wine with some character. A wine with history and pride behind it.