Sometimes, as you well know, just the look, the appearance of something really catches your eye, makes you take notice. Now this can be anything from a color, to a label or even just the direction your head turns. I don't know. Maybe there is some deep seated psychological thing involved here, but let's remember, we are talking about wine here.
Such was the case with this bottle. The label is nothing to speak of. Plain, kind of stark even. But the neck of the bottle was what did it, what made me notice it. As you can see from the picture the neck is clothed in a wrapper of white wax, which I first thought was paper. This, plus the fact that this wine hails from Puglia piqued my interest.
Emporium Appassimento comes, as I said from Puglia, a region in southern Italy rich in history and culture. This area of Italy leans toward the Adriatic but has enough of a Mediterranean location to enjoy a very temperate climate. Puglia's history dates back about 3000 years and has been inhabited since the Paleolothic age. In the eighth century BC it became a Greek colony and stayed that way until the Romans took possession in 272 BC and established it not only as their own but as a communications hub between there and the east. This helped the land to flourish. With the collapse of the Empire in 476 AD Puglia was subjected to various barbarian rule until 1043 AD when the Normans created the kingdom of Sicily. In the years since, it has belonged to the Spanish, French and for a time Austria. It wasn't until the eventual unification that Puglia became a totally Italian region.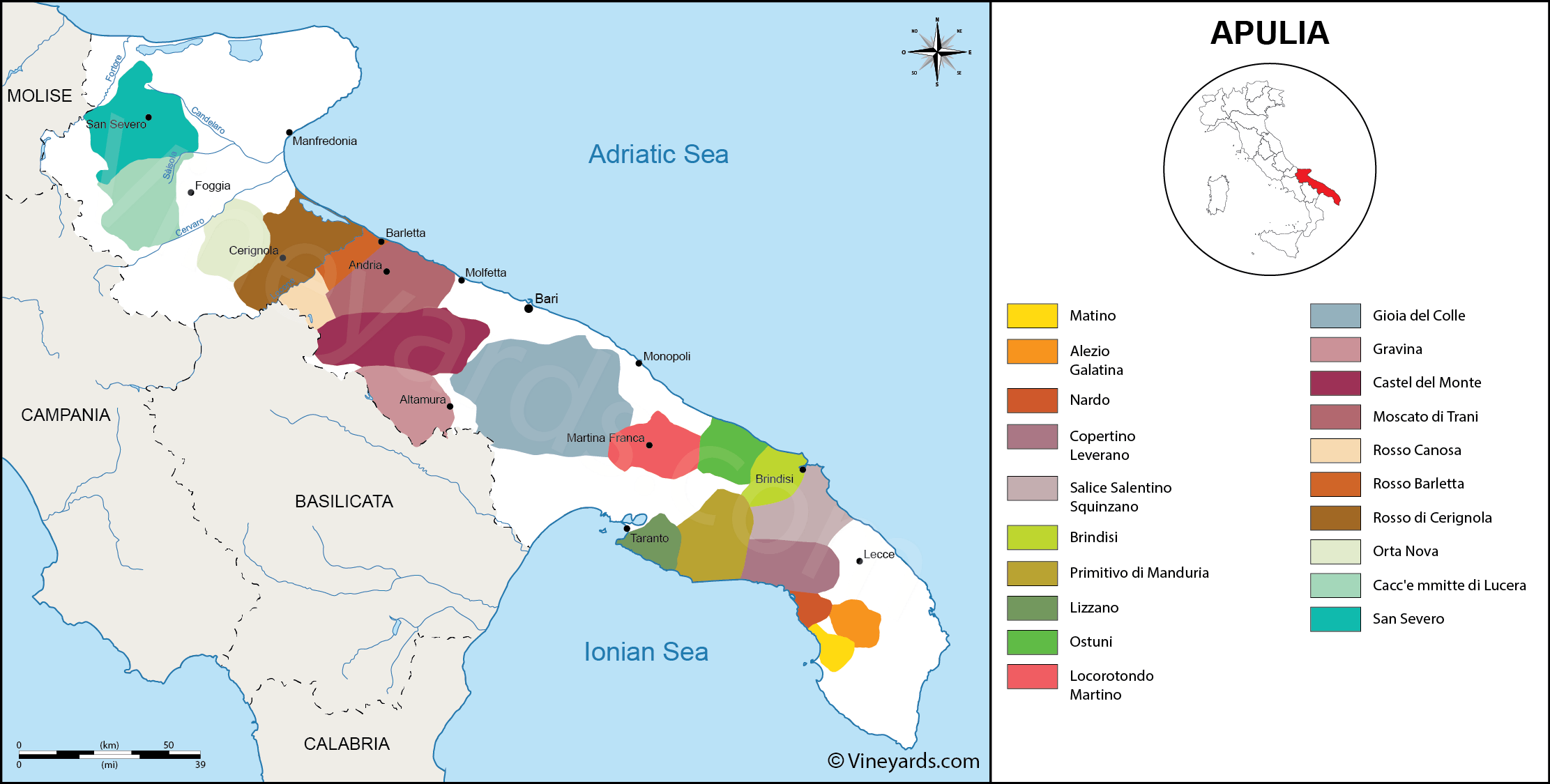 For Emporium, this wine is made in the Appassimento style, a style long prized by the higher courts. During harvest, only the finest grapes are selected to remain on the vine for an extended period. This shriveling process, called "rasinate" allows the grapes to mature on the vine, dry, and produce a bold, rich, concentrated flavor and a much stronger bouquet. This method is centuries old, a throwback to a different era, which pays homage to an age long since gone. Comprised of the Primitivo (or Zinfandel) and Negroamaro grapes which are indigenous to the area, this wine comes with a very strong bouquet of ripe fruit and grape jam, again owing to the longer vine life. It's color is a deep ruby red further enhanced by 2 ½ hour decanting.
Because of both its color and taste this wine begs for hearty fare. No flounder or poultry here, but rather, strong cuts of red meats, cooked rare to medium will almost challenge the wine to a duel on your palate. Believe me, the pleasure will be all yours as you savor the complementary characteristics of both. As the flavor of the meats and the wine meld, one can only feel truly, truly satisfied. And giving a nod to history, you can imagine what the good life was like at the height of the Empire and appreciate the influence it had throughout Europe both then and now.
Awards for this wine are many. In 2020 alone there was a 91 point rating at the International Wine Challenge (Gilbert and Gaillard), a Gold Medal and a Best Buy rating from Tastings.com and a Silver Medal from Mundus Vini Spring Tasting. All things considered, these awards are remarkable, especially considering what has gone on this year all over the globe.
With an alcohol content of 14.5% this wine is a very rare find especially in this price range, about $12. It can easily become a family favorite, an everyday wine or a choice for a special occasion. A good, versatile choice that is sure to please.