"You can celebrate with wine, or you can just drink it anyway" (Old sayings have to start someplace!)
As many of you know, there is a magic to Italian wines. The passion is totally undeniable as is the devotion to family. So many wineries there and throughout Europe can actually trace their origins back to the days of the Roman Empire since Roman soldiers brought with them their own methods of winemaking. But in my opinion, nowhere is the tradition more full or so revered as in the region known as Abruzzo. There the cultivation of the Montepulciano grape flows through generations of the inhabitants like nowhere else on the planet.
This brings me to Cantina Gabriele winery. In the nineteenth century on the island of Pantelleria, just south of the mainland Andrea Pandolfo began to produce wine using the Zibibbo grape. That land was eventually sold and Andrea moved his family to Tunisia and in the early part of the twentieth century Andrea and his son Giovanni began to produce wine in their cellar. The wines were of such a high quality that soon, shiploads of it were being shipped to France. In 1938, a plague swept through Tunisia and most of these vines were destroyed either by the plague or by burning to control the spread. It was then that Giovanni's son, also named Andrea, took control of the family business at only sixteen years of age and brought it to prominence until 1964 when the government of Tunisia took control of all foreign owned lands. So the family was forced to move back to Italy. There they bought a small winery and again started to produce fine wines. Today, Andrea's great-grandson, Gabriele, presides over the family business, modernizing and perfecting the vintage that started so long ago.
One of the vineyards now is located in the hills surrounding the town of Terracina. There the unforgiving soil is worked until it can produce quality grapes. This is really done in land with no tradition of wine-growing but a climate that is made for it.
Montepulciano D'Abruzzo wine is known for its deep, dark purple color. So deep in fact, that one of the measures of its quality is to see if a light can shine through it. It is very dry by nature, no sweetness at all, velvety in the mouth with long lasting flavor. The bouquet is rich in grape, with only slight hints of dark fruits, such as plums and blackberries. Let this wine decant for about two hours and you will also get the scent of tobacco and leather while the unmistakable aroma of oak barrels comes through. It is a feast for the senses.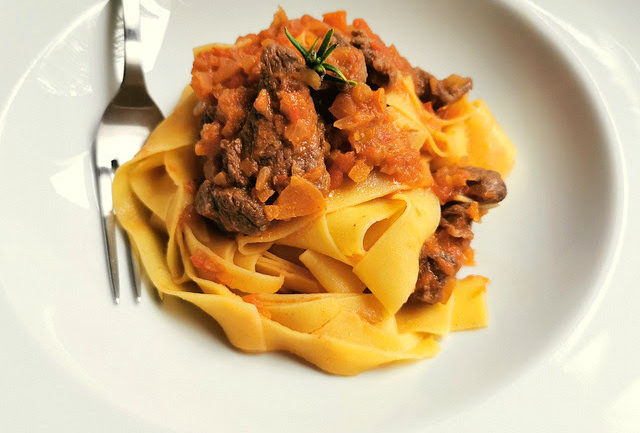 As with most wines from this region, this is a Sunday gravy (not sauce) wine. It is made to be savored with hearty meals that do include Sunday pasta with all of the traditional ingredients like Nonna's meatballs, sausage, and on and on. It will also complement your antipasto with an assortment of dried meats, olives and marinated artichokes. Throw in a good strong well aged Locatelli or Romano cheese and you will know what paradise tastes like. But if this is not to your taste or to your time budget, it also goes very well with rich stews, beef ribs and venison.
I have often said and I truly believe that the measure of a man is his legacy. Not so much how he is loved, but rather how he is loved by others. Andrea's legacy lies with his process, his product as well as, and most importantly, his family. This is wine of which he can be very proud. His family has survived and prospered throughout decades.
The Montepulciano grape is right behind the Sangiovese as the most widely used in Italy. However it is pretty much restricted to the Abruzzo Region. I have often told people, including family, that any wine which says "Montepulciano D'Abruzzo" on the label is sure to satisfy, and this is no exception.
Price – $13-15
Alcohol content – 12.5%